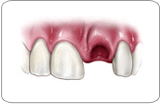 If a tooth is completely knocked out of your mouth, time is of the essence. If this type of injury happens to you, pick up your tooth by the crown, or chewing portion. Try not to touch the root. If the tooth is dirty, gently rinse it in water. Do not use soap or any other cleaning agent. If possible, place the tooth back into its socket. Go to the dentist immediately.
If you cannot put the tooth back in its socket, be sure to keep it moist. The less time the tooth spends drying out, the better the chance of saving the tooth. Solutions to keep your tooth moist are available at local drug stores. You can also put the tooth in milk or a glass of water with only a pinch of salt, or you can simply put it in your mouth between your gum and cheek. Bring your tooth to the dentist immediately.
If the tooth has been put back in its socket, your dentist may stabilize the tooth with a splint and check for any other facial injuries. If the tooth has not been put back into its socket, your dentist will examine the tooth to determine if it is still intact and check for other facial injuries. Your dentist will clean the tooth carefully and place it gently back into the socket. Your tooth may need to be stabilized with a splint for a period of time. Depending on the stage of root development, your dentist or endodontist may start root canal treatment. A medication may be placed in the tooth followed by a permanent root canal filling at a later date. The length of time the tooth was out of the mouth and the way the tooth was stored before reaching the dentist may influence the type of treatment you receive. You should contact your physician to see if a tetanus booster is necessary.
Need Help?
Summerlin Office: 702-360-2122
Southwest Office: 702-984-3303